Date: 21.10.2021
Time: 18:00 CEST
Location on-site (VIP only):
Location virtual:
Zoom (VIP only),
YouTube (open to public - no live-stream of expert panel discussion and Q&A with VIP)
---
Get a reminder for future events on LinkedIn. DON'T FORGET TO SUBSCRIBE TO OUR NEWSLETTER.
In order to buy the slides and the full recording of the event including the Q&A, become a member of our SILKROAD 4.0 community or send This email address is being protected from spambots. You need JavaScript enabled to view it..
---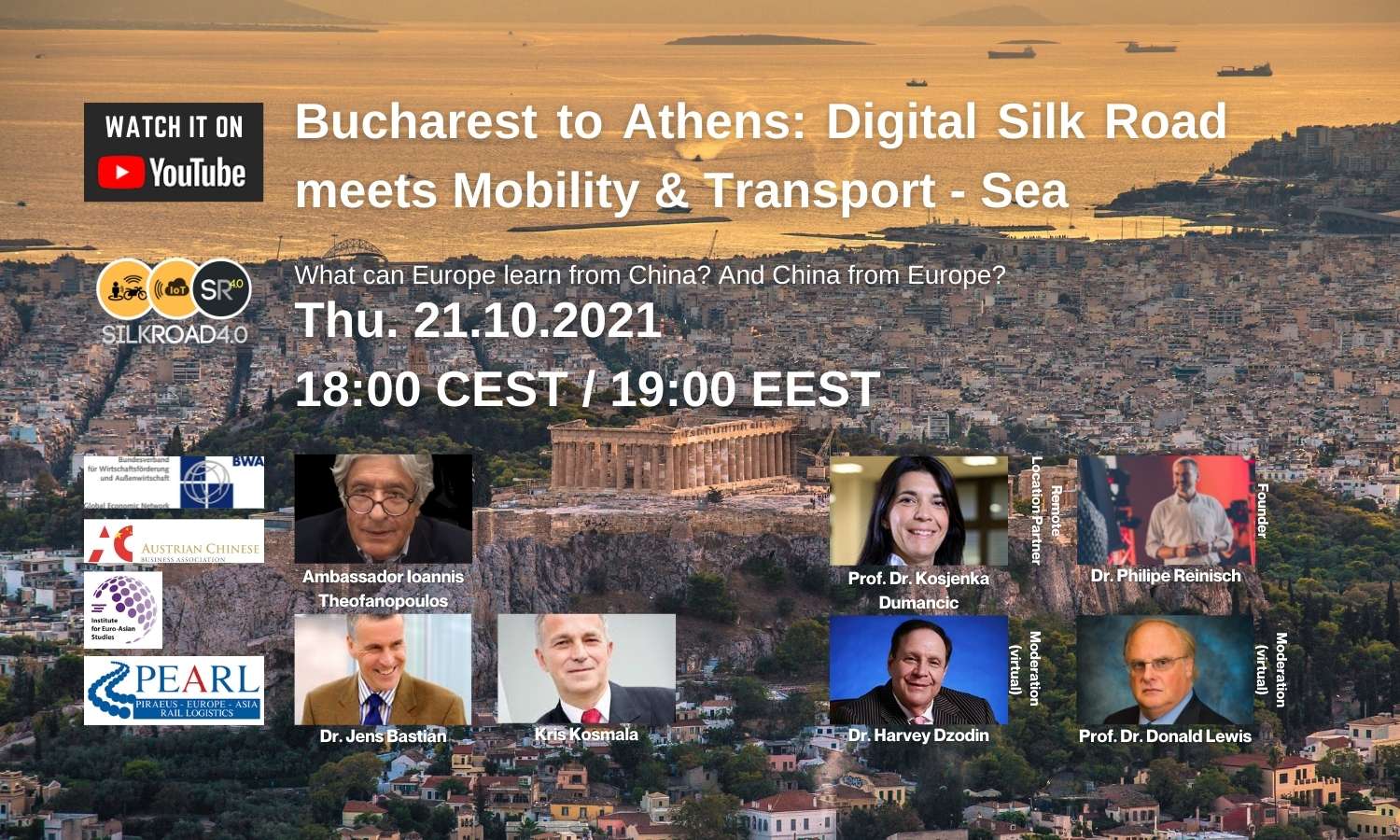 Maritime trade dwarfs terrestrial trade: 90% of all international trade is conducted by sea and ships. Hence, in economic and trade terms, MSR is more important than the Silk Road Economic Belt.
The Maritime Silk Road (MSR) is the second major route of China's Belt and Road Initiative (BRI) – complementing the land-based Silk Road Economic Belt, which operates via rail and road. The MSR subdivides into a primary sea route which proceeds through the Malacca Straits and the Indian Ocean up the Red Sea and via the Suez Canal to the Mediterranean Sea ports of Athens (Piraeus) and Venice in the EU; a secondary sea route extends into the South Pacific and Australasia – both routes inevitably pass through the South China Sea.
MSR is also linked to China's overall strategy of economic cooperation with certain 16+1 CEE countries in Southeast Europe and to Eastern Mediterranean countries. In the upcoming SILKROAD 4.0 event in Athens, we will discuss the expanding and diversifying footprint of China's expeditionary capital investments in these two key regions of Europe, and the lessons learned during the past decade for countries in the two regions when engaging with China.
According to China's MSR Vision (2017), MSR concentrates on building marine and maritime cooperation along so-called "blue economic passages". Such cooperation entails coordinated "docking strategies" amongst BRI countries to build joint platforms that focus on five priorities: (i) green development, (ii) ocean-based prosperity, (iii) maritime security, (iv) innovative growth, and (v) collaborative governance. At the same time, China, working with the UN, has forged a multistakeholder BRI "Blue Partnership".
BRI blue innovation involves a wide range of technological solutions to marine and maritime challenges. Digital (paperless) trade and logistics (employing blockchain, e-documents, AI, IOT, etc.) is part of this vision, as is green and smart ports development. At the SilkRoad 4.0 Athens session, we will address China's and Europe's corresponding innovative approaches to seaborne trade.
Event Program
Digital Silk Road meets Mobility & Transport: Sea
TIME

 

TOPIC

SPEAKER

POSITION

ORGANISATION

17:00

 

Doors Open

 
 
 

18:00

 

Welcome

Founder

 
 

Remote Location Partner (Zagreb)

Vice-dean for international cooperation and projects

 
 

Local Location Partner (Athens)

Theodoros Kordalis, 
Dimitris Kagioulis

General Manager 

Piraeus Europe Asia Rail Logistics S.M.S.A.
 
 

Welcome

Ioannis Theofanopoulos

Former Greek Ambassador to China

Foreign Ministry of Greece

 

1

Keynote

Partner, Click & Connect;
Non-Executive Director, Holo Sail Technologies

 

2

Keynote

Independent Financial Sector Analyst & Economic Consultant;
Senior Policy Advisor, Hellenic Foundation for European and Foreign Policy (ELIAMEP)

--
ELIAMEP

 
 

Discussion between the experts and Q&A with the VIP audience
(no streaming to YouTube)

all experts

 

 

approx.
20:00

 

Upcoming worth-to-know activities and Farewell; End of virtual event; joint dinner on-site
(no streaming to YouTube)