Date: 18.11.2021
Time: 18:00 CET / 20:00 TRT
Location virtual:
Zoom (VIP only),
YouTube (open to public - no live-stream of expert panel discussion and Q&A with VIP)
---
Get a reminder on LinkedIn. DON'T FORGET TO SUBSCRIBE TO OUR NEWSLETTER.
In order to join our VIP discussions during the event, buy your VIP ticket here.
If you want to get access to the slides and the full recording of the event including the Q&A session, buy your VIP PLUS ticket here. 
To watch the presentations on our YouTube channel free of charge (without the panel discussion), simply click the image below.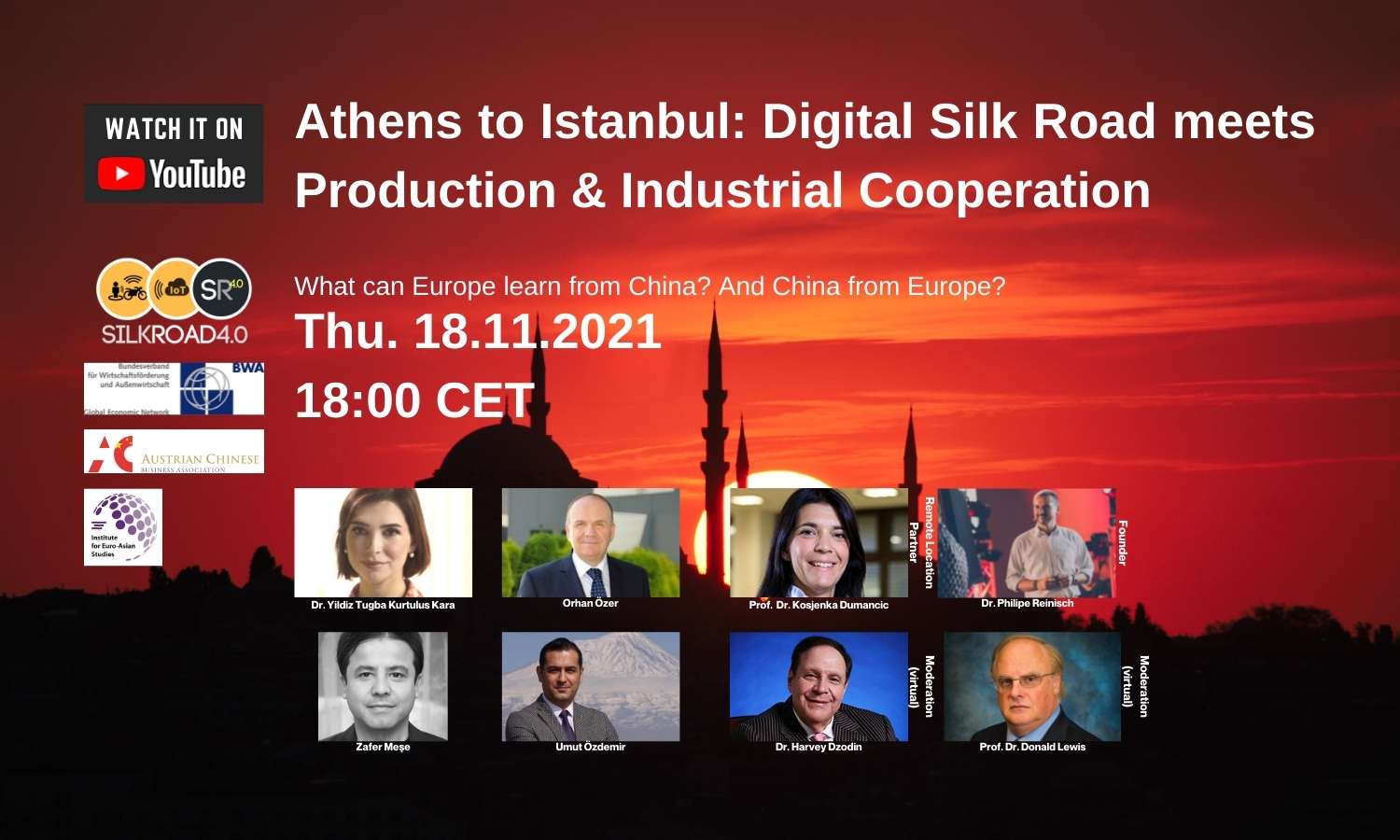 Turkey is a central global logistic hub, connecting Europe and Asia already since the middle ages and before. But not only is Turkey known for its transport industry, but also for its relevance in producing goods for the world market. In particular, Turkey and China have been gearing up "production and industrial cooperation" – an important element of China's BRI (Belt and Road Initiative) – for the last few years, which has accelerated recently with the opening up of the "Middle Corridor" (or TCIT) and COSCO's substantial investments in Kumport Terminal. The emphasis currently is on strengthening advanced technological cooperation and production in Turkey for export abroad, including EU markets. At present, more than 30 Chinese digital companies have investments or partners in Turkey. Huawei boasts a major research and development center in Istanbul – its largest overseas. Another leading Chinese telecom company, ZTE, has become a shareholder of Turkish systems integration provider, Netas, and is introducing 5G technology to Turkey. Chinese mobile phone manufacturers, such as Xiaomi, OPPO, Vivo, and Tecno Mobile, have also established production facilities in Istanbul recently.
Addressing climate change, China is already engaged in cooperation with Turkish firms as regards renewable energy technologies and the manufacture and export of green products. HT Solar Energy, a subsidiary of Chinese state-owned company HT-SAAE, established in 2016, produces solar panels in the Tuzla Free Zone in Istanbul, while also operating a sprawling training school for future Turkish employees in the solar industry. The production of Chinese wind turbines is also gaining greater importance for electricity generation in Turkey. Electricity storage technology is emerging as a key aspect of such Sino-Turkish collaboration and will support greater industrial manufacturing capacity in Turkey.
These are but a few of the strategic industries in which Turkey and China are currently cooperating.
Join us to find out more about Asia-Turkey production and industrial cooperation in key sectors of the Turkish economy, as well as trade opportunities.
Event Program
Digital Silk Road meets Production & Industrial Cooperation  
TIME

 

TOPIC

SPEAKER

POSITION

ORGANISATION

17:40

 

Doors Open

 
 
 

18:00

 

Welcome

Founder

 
 

Remote Location Partner (Zagreb)

Vice-dean for international cooperation and projects

 
 

Cooperation Partner

Founder

 

 

Welcome

Expert

Ministry of Culture and Tourism, Republic of Turkey

 

1

Keynote

General Coordinator Germany

 

2

Keynote

Former President & CEO,
Former Vice-President

Toyota Turkey,
Toyota Motor Europe

 
 

Discussion between the experts and Q&A with the VIP audience
(no streaming to YouTube)

all experts

 

 

 
 

Upcoming worth-to-know activities and Farewell
(no streaming to YouTube)

SILKROAD 4.0 team

 

 

approx.
20:00

 

End of virtual event