Date: 30.05.2022
Time: 17:00 CEST / 18:00 IST
Location virtual:
Zoom (VIP only),
YouTube (open to public - no live-stream of expert panel discussion and Q&A with VIP)
---
Get a reminder on LinkedIn. DON'T FORGET TO SUBSCRIBE TO OUR NEWSLETTER.
In order to join our VIP discussions during the event, buy your VIP ticket here.
If you want to get access to the slides and the full recording of the event including the Q&A session, buy your VIP PLUS ticket here. 
To watch the presentations on our YouTube channel free of charge (without the panel discussion), simply click the image below.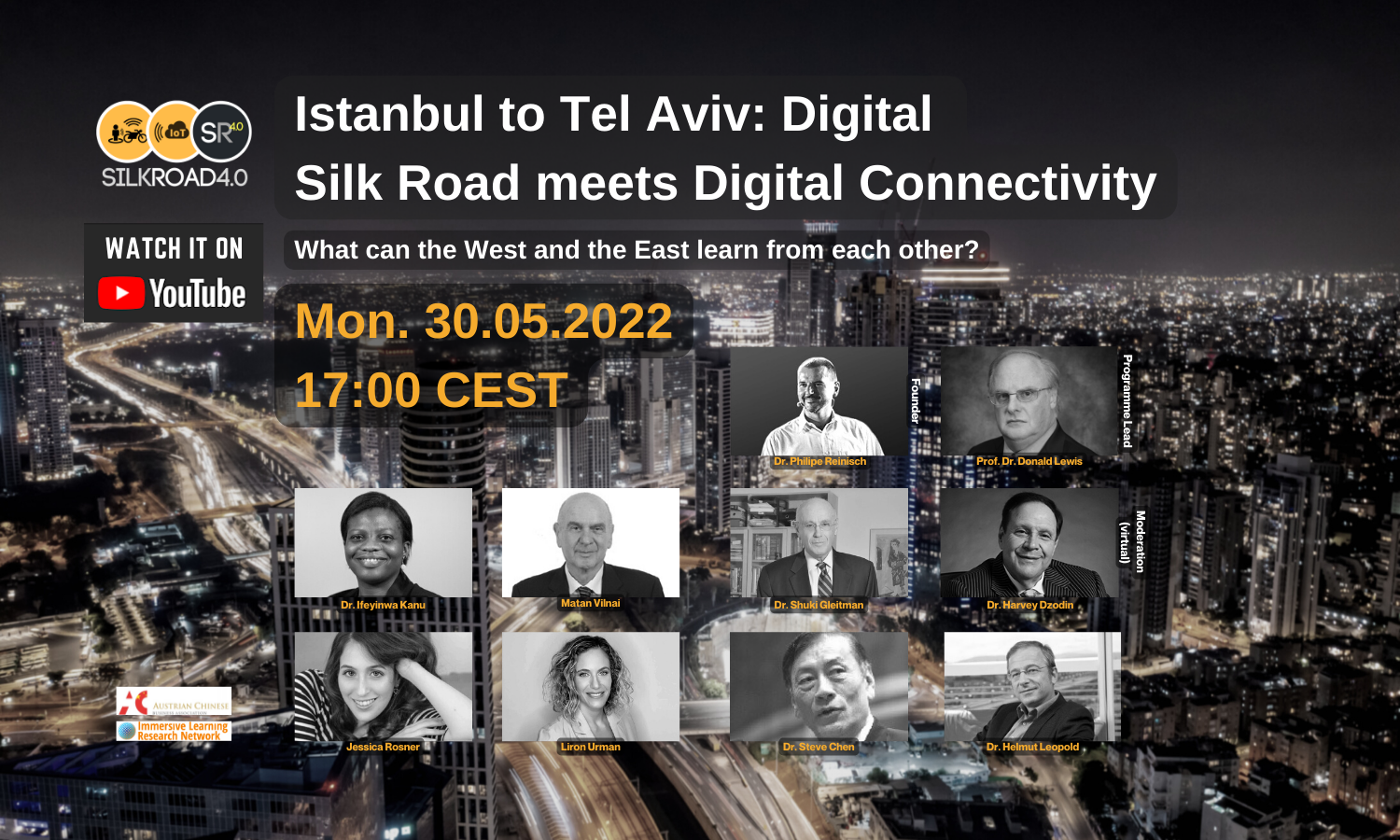 In 1950, Israel was the first country in the Middle East to recognize the People's Republic of China as the legitimate government of China. However, normal diplomatic relations were not established until 1992. Since then, Israel and China have developed increasingly close strategic economic, military, and technological links. In this opening chapter of the 2022 SILKROAD 4.0 journey, we travel to Tel Aviv to learn more about Israel's rapid transformation into an economic and technological powerhouse and the current state of Israel-China relations in these turbulent times. The focus of this event is on
global Digital Connectivity
, following the Digital and Maritime Silk Road trade routes.
We will engage with Israeli, European, Chinese, and US thought leaders on global connectivity,  Xtended Reality (XR) & VR, supercomputing grids, AI & robotics, smart & sustainable cities, and cybersecurity developments. In addition, we will also touch briefly the technology transfer between Israel and China; and the impact of sanctions arising from the Russia-Ukraine conflict -- against the backdrop of current Israel-China trade and investment relations.
Event Program
Digital Silk Road meets Digital Connectivity  
TIME

 

TOPIC

SPEAKER

POSITION

ORGANISATION

15:45

 

Doors Open

 
 
 

16:00

 

Pre-Program

Welcome

Founder

 
 

Inspirational talk: "Empowering Global Food Sustainability"

CEO

IntelliDigest

 
 

Inspirational talk: "Update on the Israeli Startup ecosystem & Israeli innovation"

Founder

Tech It Forward

 17:00

 

Main Program

Welcome

Founder

 

1

Keynote

"Israel and China: 30 years of diplomatic relations"

President

President



Former Minister

Former Ambassador 

Israel-Asia Chamber of Commerce

UIBE-ISRAEL (China International University in Israel)

Minister of Science & Technology of Israel

Israeli Ambassador to China

 

2

Keynote

"Israel as a crossroad for Asia: Technology transfer between Israel and China"

General Manager


Co-Founder

Israel-Asia Chamber of Commerce

Women Create Future

 

3

Keynote

"Technology & Science Transfer between Israel & China in times of geopolitical turmoil"

Chairman




former Chief Scientist and Director General

Guangzhou International Exchange and Cooperation Center Tel Aviv Office

Israeli Ministry of Industry and Trade



 

4

Keynote

"Use of Third Brain Learning & Information Supergrids for Farming Communities in Rural China"

CEO & Founder



Former principal designer

Information Supergrid Technologies USA Inc.

Cray X-MP and Cray Y-MP multiprocessor supercomputers



 

5

Keynote

"A secure digital future through a global common understanding"

Head of Center


Co-Founder

Center for Digital Safety & Security, Austrian Institute of Technology

 
 

Discussion between the experts and Q&A with the VIP audience
(no streaming to YouTube)

all experts

 

 

 
 

Upcoming worth-to-know activities and Farewell
(no streaming to YouTube)

SILKROAD 4.0 team

 

 

approx.
20:00

 

End of virtual event