Date: 23.09.2021
Time: 18:00 CEST
Location on-site (VIP only):
Location virtual:
Zoom (VIP only)
YouTube (open to public - no live-stream of expert panel discussion and Q&A with VIP)
Get a reminder on LinkedIn. DON'T FORGET TO SUBSCRIBE TO OUR NEWSLETTER.
In order to buy the slides and the full recording of the event including the Q&A, send This email address is being protected from spambots. You need JavaScript enabled to view it.. To watch the presentations of YouTube (without the panel discussion), simply click the image below.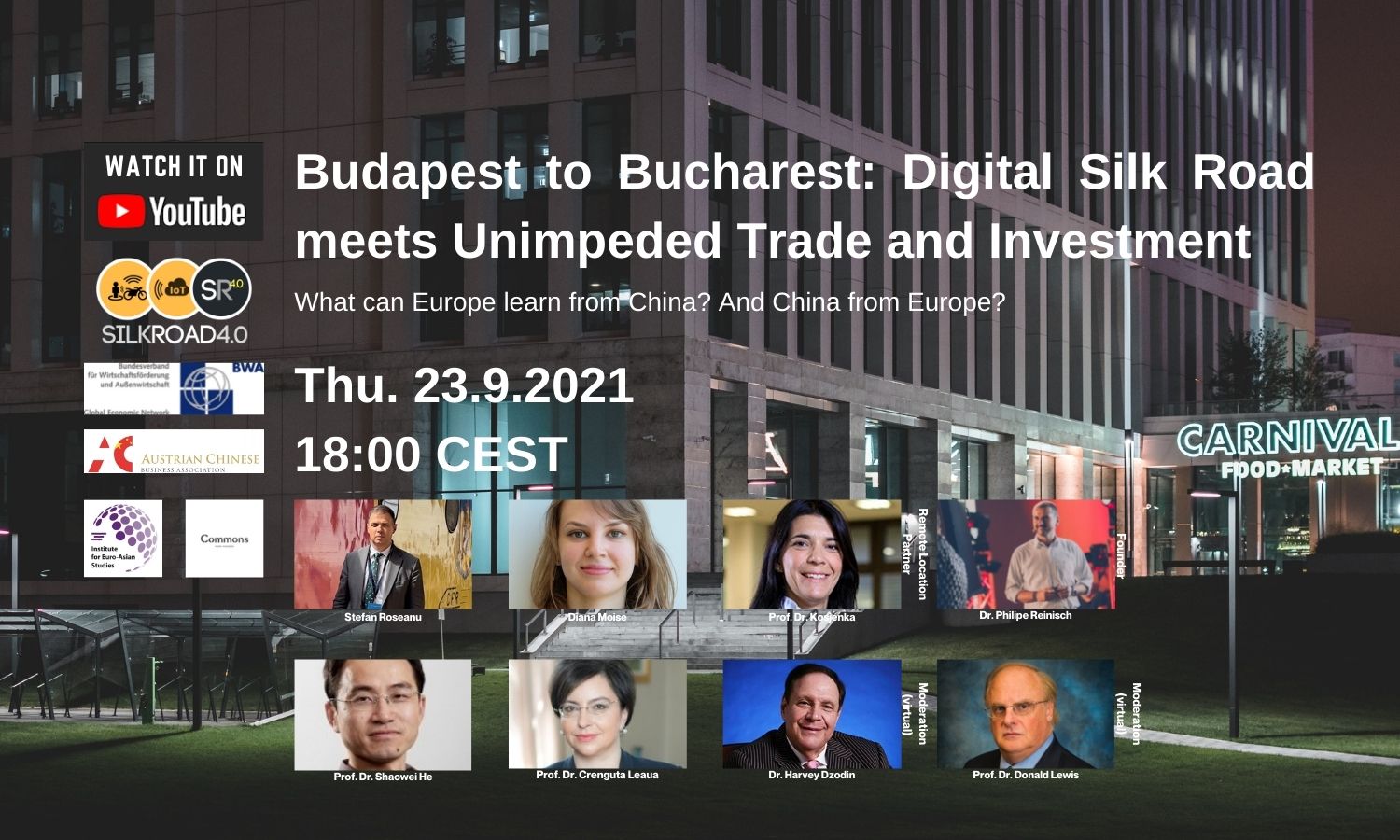 Unimpeded trade and investment is a major goal of the European Union and many countries along the Belt and Road, including China. From a trade and transport perspective, how are Romanian rail and intermodal transport developments contributing to SilkRoad unimpeded trade, investment, and interconnectivity?
Turning to investment, EU FDI (Foreign Direct Investment) into China, and Chinese investment into the EU, have suffered setbacks as the EU-China Comprehensive Agreement on Investment (CAI) has stalled. CAI primarily favours greater market access to China for European companies in both services and manufacturing. Can the CAI be re-activated?
Investment protection under CAI is still subject to EU-China negotiation. What guidance do EU Member-China BITs (bilateral investment treaties), such as the Romania-China BIT, provide on the standards of investment protection European investors and companies can expect? From a technology perspective, what investment protection issues are emerging in the context of new business platforms based on blockchain?
There have been some European concerns over Chinese investments in certain perceived sensitive sectors, notwithstanding the comparatively low levels of Chinese investment generally in the EU. Are such fears justified? What has been the experience of Chinese companies investing in the EU? What is it like to work with Chinese investors and partners doing business in the EU? And what can European companies learn from Chinese firms?
Find out the answers to these and other questions pertinent to EU-China trade and investment at the SILKROAD 4.0 event on 23rd September.
Event Program
Digital Silk Road meets Unimpeded Trade and Investment
TIME

 

TOPIC

SPEAKER

POSITION

ORGANISATION

17:00

 

Doors Open

 
 
 

18:00

 

Welcome

Founder

 

 

Remote Location Partner (Zagreb)

Vice-dean for international cooperation and projects

 
1

Keynote - "The impact of the railway to trade and investments in Romania"

General Manager, Association for Metropolitan Mobility;
Personal Advisor to Deputy Minister Scriosteanu at Romanian Ministry of Transport, Infrastructure and Communication

Association for Metropolitan Mobility, Romanian Ministry of Transport, Infrastructure and Communication

 
2

Keynote - "Europe-China trade and investment relations in the context of China's Belt and Road Initiative"

Lawyer

Debevoise & Plimpton LLP
 

3

Keynote - "Mutual learnings through Chinese acquisitions"

Associate Professor in International Business

 

4

Keynote - "Blockchain in trade and investments"

Full Professor, Bucharest University of Economic Studies;
Managing Director, LDDP;
Member of the Board of Directors, Chair of the Initiative on Arbitration and Blockchain, Silicon Valley Arbitration & Mediation Center (SVAMC)

Bucharest University of Economic Studies, LDDP, Silicon Valley Arbitration & Mediation Center (SVAMC)

 
 

Discussion between the experts and Q&A with the VIP audience
(no streaming to YouTube)

all experts

 

 

19:30

 

Upcoming worth-to-know activities and Farewell; End of virtual event; joint dinner on-site
(no streaming to YouTube)