Date: 26.08.2021
Time: 18:00 CEST
Location on-site: Mahart Container Center, Weiss Manfréd 5-7, H-1211 Budapest, Hungary (VIP only)
Location virtual: Zoom (VIP only), YouTube (open to public - no live-stream of expert panel discussion and Q&A with VIP)
Get a reminder on LinkedIn. DON'T FORGET TO SUBSCRIBE TO OUR NEWSLETTER.
To join our interactive VIP network event on Zoom, buy your ticket here. To watch the presentations via YouTube (without the panel discussion), click the image below.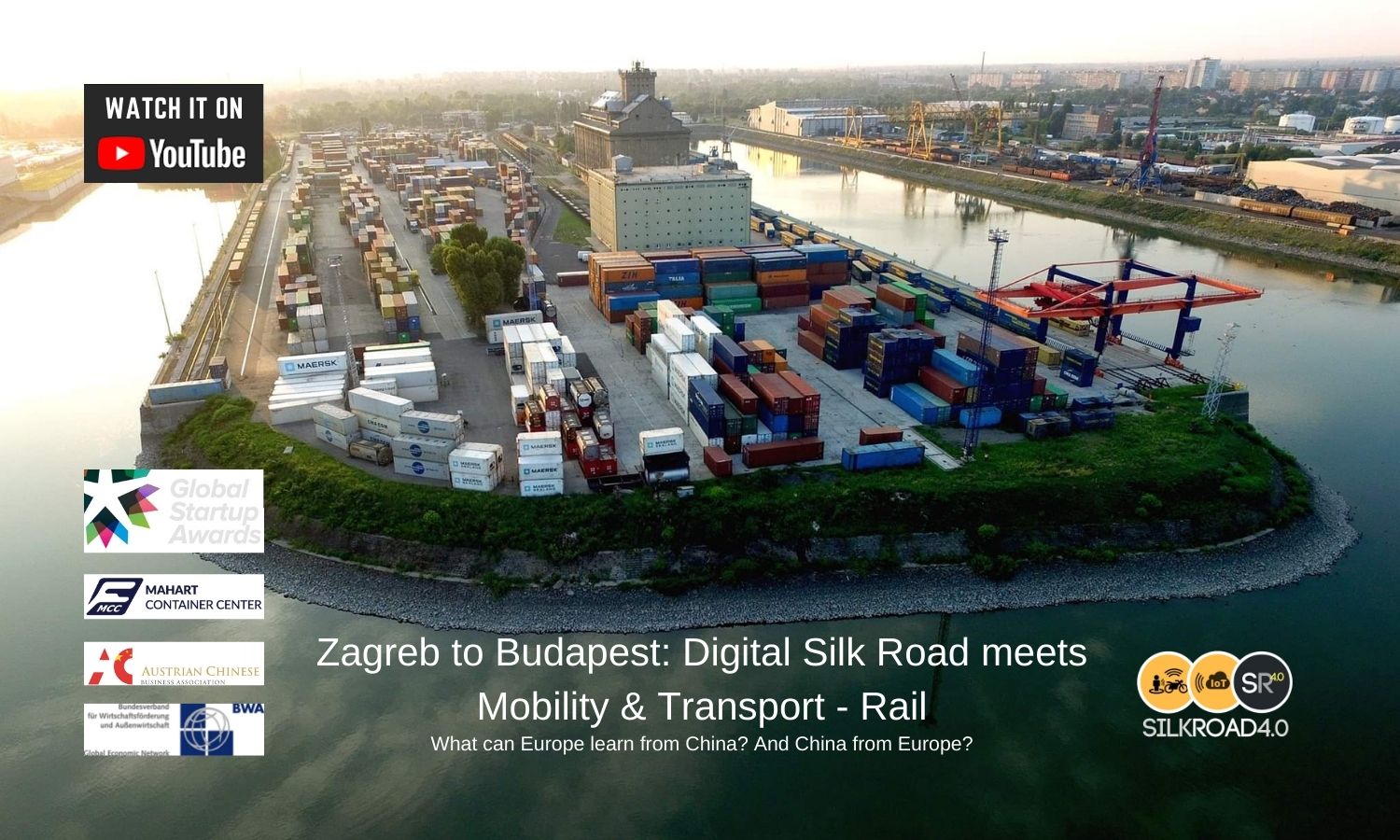 Mobility & Transport are undergoing epochal transformative change and development, including with the advent of digital and green mobility across Europe and in China. In Europe, the Trans-European Transport Network (TEN-T) provides the blueprints for the future of intelligent, integrated transport across all modes as well as inter-modality. At the same time, the land-based Silk Roads are rapidly interconnecting the EU – primarily via railways – with the rest of Eurasia. Hungary is emerging as a key logistics hub in the EU and with respect to transcontinental Silk Road rail transport. However, different systems, organizations, rules, and technical standards must be harmonized if free movement of goods and people across Eurasia is to be achieved.
Event Program
Digital Silk Road meets Mobility & Transport - Rail
TIME

 

TOPIC

SPEAKER

POSITION

ORGANISATION

17:00

 

Doors Open

 
 
 

18:00

 

Welcome

Founder

 
 

Local co-host, Welcome

Co-Founder

 

 

Cooperation Partner, Welcome

Managing Director, President

 

1

Location Partner, Welcome, Keynote

Managing Director

 

2

Keynote: "The BRI and Europe - an holistic view. How to create a win-win situation?"

Rector, (FH)Director

Univ. of applied Sciences BFI Vienna, FH Programme Logistics and Transport Management

 

3

Keynote: "A European Silk Road"

Executive Director

 

4

Keynote: "The Eurasian railway corridor"

Member of the Management Board, Head of Business Unit Intermodal

 
 

Discussion between the experts and Q&A with the VIP audience
(no streaming to YouTube)

all experts

 

 

19:30

 

Upcoming worth-to-know activities and Farewell; End of virtual event; joint dinner on-site
(no streaming to YouTube)